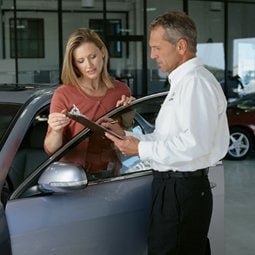 Welcome to Our Service Department
At Dutch's Ford, our highly qualified technicians are here to provide exceptional service in a timely manner. 
From oil changes to transmission replacements, we are dedicated to maintaining top tier customer service, for both new and pre-owned car buyers! 
Allow our staff to demonstrate our commitment to excellence.
Schedule Service
Your privacy is important to us.
Our Dealership takes your privacy seriously and does not rent or sell your personal information to third parties without your consent. Read our privacy policy.
Every car owner has to deal with both maintenance and repairs at varying intervals, and it's extremely important to have a Ford dealership or shop in mind before you need it. Accidents happen, and the last thing you want to worrying about is finding the right service center; we recommend deciding on a destination while your car is running well, so that you know where to turn when something does go wrong with your car. If you have any questions about our vehicle service, or you'd like to know more about the parts we use, please don't hesitate to get in touch.
Our technicians are Ford-certified, and there's no Ford service related item that they can't handle. Additionally, all of our repair parts are OEM parts from Ford. You can even order parts through our website.
Whether you need an oil change or collision repair, we hope to see you at our Ford service center the next time your vehicle needs maintenance.
We Use Only Ford OEM Parts
As we mentioned earlier, every part we use at our Ford service center is an original equipment manufacturer (OEM) part. This means that they are manufactured and guaranteed by Ford, and they will fit perfectly with your Ford vehicle. Aftermarket parts simply don't carry the same guarantees, and they may wear out faster than the rest of your car does. Additionally, the presence of non-OEM parts on a Carfax report in the future could lower the resale value of your car. Safety is another concern; parts not made by Ford may not fit exactly as intended. With things like windshield wipers this may not be a big issue, but when it comes to electrical component and side body panels, your safety could be at stake.
If you would like to know more about the parts we use and why, please reach out. Secondary market parts may be slightly cheaper, but they're rarely worth it.
Parts & Service Coupons
When you visit our website or car dealership in Mt. Sterling, KY, you'll notice that we like to offer coupons to our customers. This isn't a temporary thing---we constantly update the coupons section of our website for all to enjoy. They could be something like a buy three tires get the fourth free deal, or free battery installation with a battery purchase. The truth is, you never know what coupons we'll have available; what we do know is that you don't want to sign up for vehicle service without first checking for a deal.
Even if you don't find a specific incentive for the type of service you need done, we always guarantee you a fair rate on our Ford service.
Ford Collision Repair
Our Ford service department doesn't only perform routine maintenance. While we hope you're never in so much as a fender bender, consider bringing your Ford to our dealership if it sustains damage of any kind. Whether you need a new bumper, a new paint job, dent removal after a minor accident or storm, or full-on collision repair, our technicians can get your car looking as good as new.
As long as your vehicle hasn't been totaled, we can make it look like new. We take a layer-by-layer approach to repair; we removed panels and layers of the car as necessary, fix the interior damage, then place the outer elements of the car back in place (after fixing them, too). We also try to be very transparent about costs, and we never want to surprise you with a "hot bill."
Sign Up For Maintenance Appointments Online
Did you know that you can choose a time slot that works for your schedule through our simple online reservation form? It only takes a few moments to get slotted for vehicle maintenance, and you can do it from your computer or mobile device. You're always welcome to call or drop in, but it's always nice to reserve your time slot well in advance. All you have to do is arrive during your designated time, relax while we maintain your car, and get back on the road afterwards. If you're a contractor leaving a commercial truck with us for repairs or maintenance, we may be able to set you up with a loaner while your truck is being fixed. Unfortunately, business doesn't stop while your pickup is being serviced!
Enjoy Our Comfortable Waiting Area
While getting a car serviced isn't something most people look forward to, we have tried to make the process as enjoyable as possible. Who knows; you may wish your oil change took longer! While you wait, relax in a comfortable chair or couch in our waiting lounge. Feel free to sign it to the wifi and pour yourself a cup of coffee--it's a great environment for relaxing or getting some work done. You can think of it as either an extension of your office or your living room.
We're also conveniently located on Indian Mound Dr., so there are plenty of stores and amenities nearby. If you need anything, just ask!
It goes without saying that maintenance and repairs are a much smaller concern when you drive a car that you can trust---we're proud of everything we sell, and we trust Ford vehicles to carry you safely for years ahead. That's not to say that you won't need to visit our Ford repair center eventually, but we won't be seeing you often.
Dutch's Ford also offers a number of other services, like Certified Pre Owned Ford vehicles, a full selection of reliable used cars, every brand new Ford on the market, and financing options. Regardless of your credit, we'll get you a fair loan so that you can secure the Ford that you need.
If you have any questions about our Ford dealership whatsoever, we hope you'll reach out. You can get in touch online, on the phone, or in person--we always love to meet new people. Get signed up for a test drive today!
Service Hours
Monday

7:30 AM - 5:30 PM

Tuesday

7:30 AM - 5:30 PM

Wednesday

7:30 AM - 5:30 PM

Thursday

7:30 AM - 5:30 PM

Friday

7:30 AM - 5:30 PM

Saturday

Closed

Sunday

Closed